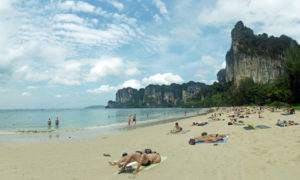 Where you go to spend your honeymoon is a big deal. So check out the following beach destinations made for romantic getaways.
Bora Bora
With insanely stunning beaches and world-class resorts, Bora Bora in Tahiti is just a perfect honeymoon retreat. Stay in one of the huts like cabins situated over a blue lagoon and experience tropical bliss like no other. Bora Bora is a premier honeymoon destination so a honeymoon stay here perfectly fits the bill.
Fiji
The beautiful island of Fiji offers perfect beaches with turquoise waters and stunning coral reefs. And while the beaches are more than adequate to make any newlywed's dream vacation come true, exploring the island's other attractions will make your stay even more memorable.
Take an adventure with your loved one through natural waterfalls and exploring underwater life while scuba diving or snorkelling. This is one honeymoon trip you'll always remember.
Railay Beach
When the ultimate in exclusivity is what you are after, Railay Beach in Krabi, Thailand is the place to be. Accessible only by boat, this beach island is surrounded by towering limestone cliffs that look like they came straight out of a fantasy film. This single attraction makes the visit to this secluded island worth the trip. Enjoy a very relaxing and private stay on this island with your loved one.
Treasure Cay
The Treasure Cay in the Bahamas is a beautiful and popular island south of Florida. Powder soft sand and crystal clear azure water are sure to attract any couple looking for a place to make good memories.
Intimate moments will definitely be plenty as you view the sunset with your special someone on the beach. And if things get too slow and boring, sign up for some awesome diving or snorkelling adventure to liven up the day!